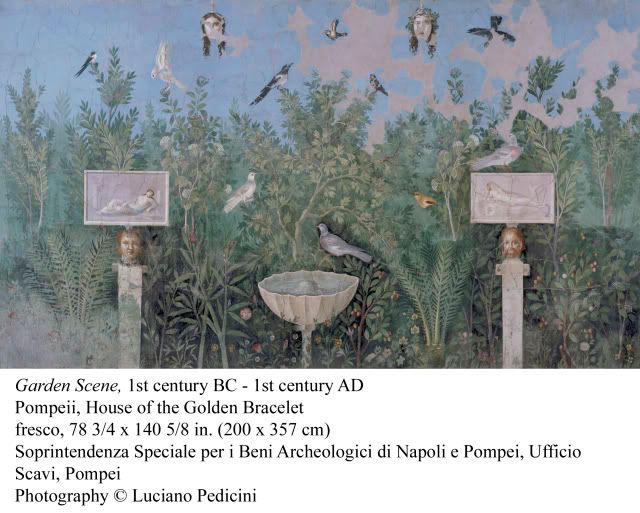 Pompeii and the Roman Villa: Art and Culture around the Bay of Naples
, is currently on view at LACMA in Los Angeles. The exhibit includes works of art from the imperial villa at Oplontis and from aristocratic villas such as the Villa San Marco at Stabiae and the Villa dei Papiri at Herculaneum, as well as works from the opulent houses of the urban elite in Pompeii, whose very name conjures up ancient Rome and other towns along the bay of Naples. More about the exhibit when you click "Read More"

I found the exhibit to be very interesting when you think about the context of all these works. There were so many affluent Romans during the 1st century that they wanted to spend their money on commissioned works of art, gold jewelry and gorgeous interior decoration and architecture. Unfortunately in the city of Rome at the time- the wealthy were forbidden to flaunt their money and often lived in very austere homes. So just like many affluent people in today's society have a beach house in Malibu or a house at the Hamptons-- these Romans had Villas on the Bay of Naples. They were able to lavishly decorate their homes here and live in luxury.

Also interesting and kind of entertaining was the idea that artists would recreate ancient Greek statues and sell them as ancient works--which Roman buyers had to get their hands on.


The exhibit is on view at Lacma
from
May 3–October 4, 2009