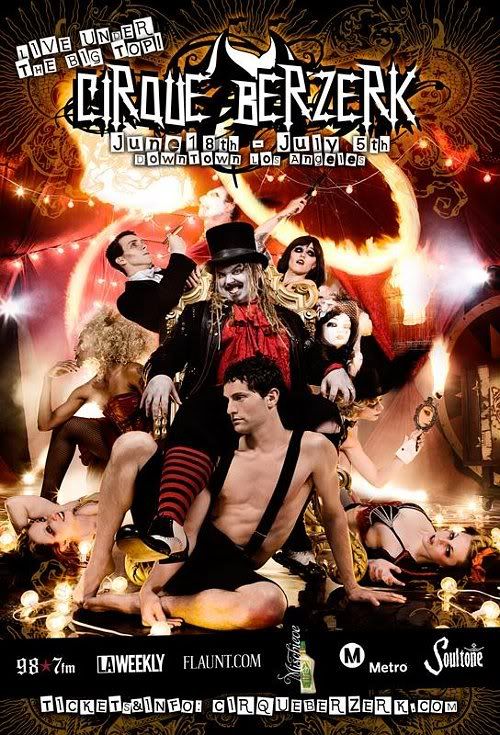 Cirque Berzerk's,

"Beneath,"
is a wild and twisted dreamland full of "dead" burlesque dancers, sexually charged contortionists, and demented clowns all under the command of a devilish ring master. And it couldn't be more fun to watch! The amazing costumes, makeup, and live band all reel you in to a stage performance that evoked cheers, shrieks, and laughs as well as a standing ovation from the audience.
When you enter their big top at the Los Angeles State Historic park, you are transported into a gothic fantasy world. But the experience really begins when you get to the park, not when you get to your seats. There are vendors selling merchandise and food as well as a tented bar with a live band. There is also a fire show outside, during intermission.
If you are looking for something new, fun and exciting to do this weekend, Cirque Berzerk is it. You can buy tickets here:
CirqueBerzerk.com
They go from 25-80 dollars. "Beneath" runs until July 5 (but it looks like an extended engagement is in the works until the 26th).
Tips
:
Go an hour early to picnic before the show. Either bring your own food and wine or buy from the vendors there.
Bring cash because parking is $10 and you need cash to buy food (but there is an ATM on site)
Dress = anything goes. Some go very casual, others in date night attire, and even some in costume!
Stay late for an after party with the performers in the tented Berzerk Lounge.
Check out a preview below:
Photos by Pixie Vision Productions